Sorrento Parcheggio | Sorrento Garage | Car Valet | Parcheggio Porto di Sorrento | Escursione Capri parcheggio | Sostare auto Marina Piccola | Sorrento Porto | Marina Piccola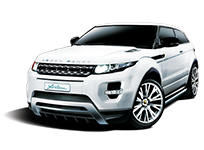 OUR SERVICE:
• Opening
From April to October
7.30 AM / 7.30 PM
• Position
Sorrento Centre 2 min. walking
Port of Sorrento of 100mt.
• Request
Free Quotes
• Payments
Is it possible to pay directly by credit card or home.
Sorrento Garage
The garage is located in a central position in Sorrento can be reached in 2 minutes the historical center of Sorrento, the Sorrento beaches, the shopping center and especially the hotels in Sorrento Coast.

Official Rates 2022
The discount after the three days is only valid for booking web.
Giorni
Hours
Car (Small)
Car (Medium / Big)
Suv & Van
From 07.30 to 19:30
12h
€ 30
€ 35
€ 40
Full Day
24h
€ 35
€ 40
€ 45
* Tax Included
How to reach us

Visualizza Sorrento Garage il Faro in una mappa di dimensioni maggiori
After the A2 Rome - Naples, follow the signs to Sorrento getting onto the A3 Salerno-Reggio Calabria, exit at Castellammare and proceed to Sorrento.
When you arrive in Piazza Tasso (the main square in Sorrento), go to the port / hydrofoils boarding after a few meters you will find the garage on the left side of the road Sorrento
Hotel Il Faro Sorrento **** (Marina Piccola porto turistico)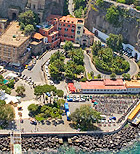 In the heart of the Sorrento peninsula, at the port of Sorrento, is situated the Hotel il Faro.
The marine-style hotel has 50 rooms all with private facilities, satellite TV, air conditioning, heating and baths all with shower, make this a pleasant stay.

Very near the islands it offers the possibility of unforgettable excursions in absolute carelessness. The hotel is constituted in various parts, it has three dining rooms, one for half board, another for the à la carte "Vela Bianca" and a seaside taverna for pizza and drinks.
Visit website www.hotelilfaro.com
Ristorante Vela Bianca **** (Marina Piccola porto turistico)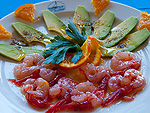 The Vela Bianca Restaurant is located in Via Marina Piccola, Sorrento marina. The chef likes to bring to the table new and enriching the flavors of traditional recipes, simple or elaborate as they are, with the fine art of cooking with fresh local produce enriched with spices and natural flavors
Visit site: www.ristorantevelabianca.com
Sorrento Garage il Faro S.a.s. - Via Luigi De Maio 48/50 Marina Piccola - Sorrento (Napoli) Italy - email: info@sorrentogarage.com
Tel. +39.0818771575 - P.IVA 01337091217 - Privacy Policy